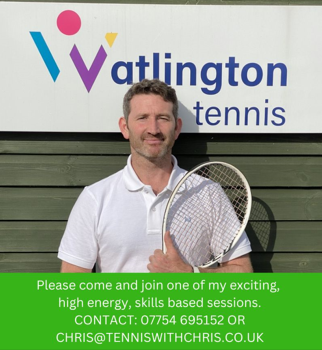 Tennis is without doubt, good for the mind and body.

Regardless of age, taking lessons challenges you to learn, improve and become a better player.
Chris Graham is our new, level 4, LTA-accredited Head Coach who runs sessions for groups and individuals.

Chris also runs weekly coaching for our juniors on Tuesdays and Thursdays during term times.
All abilities are welcome.
Team players have their own weekly coaching and practice sessions as noted in the court booking systems.
Chris runs Tennis camps for junior players at Easter and during the summer holidays.
You must be a Club member in order to book and attend lessons (Junior camps are the exception).
Please email your contact details to enquire about coaching availability.
Please note that Chris coaches on Tuesdays and Thursdays.
You can also contact Chris on 07754 695152
Junior Coaching this Autumn
We love our local community and offer the opportunity to try tennis, with sessions designed for physical wellbeing and social fun
Please come and join one of my exciting,high energy, skills-based sessions
TUESDAYS -12/9 -17/10, 31/10-12/12 (no coaching during half term)
2.15 - 3.00 TOTS (3 - 5) £6 PER SESSION
3.45 - 4.40 REDS (5 - 8) £8 PER SESSION

4.45 - 5.30 TOTS (3 - 5) £8 PER SESSION
THURSDAYS - 14/9-19/10, 2/11-14/12 (no coaching during half term)
4.00 - 5.00 YELLOW* £8 PER SESSION

5.00 - 6.00 RED (5 - 8) £8 PER SESSION

6.00 - 7.00 YELLOW * £8 PER SESSION

7.00 - 8.00 YELLOW* £8 PER SESSION

*YELLOW SESSIONS ARE ORGANISED ON AGE AND ABILITY, SO PLEASE CONTACT ME FOR MORE INFORMATION
CONTACT: 07754 695152
OR email: [email protected]
Chris's Bio
I have been playing tennis over 35 years, and coaching for 19 of those years; teaching a wide variety of able-bodied and disabled players from 3-year old beginners to 80-year old timers, across improver, advanced, and county standards.
I have an excellent rapport with both children and adults; I work well with the psychology of each individual student to bring out the best in them. I'm hugely enthusiastic and bring bags of high energy to my sessions and am invested in the coaching process to ensure the best results are gained.
I have run many successful co-ordination, mini-tennis, tennis courses and holiday camps, for children, companies and individuals, and have worked with some fantastic people along the way. My most recent successes have been working with players who made it into the Bucks under-8 county set up, helping Ewan Heyward - a visually-impaired tennis player - to be invited into the Great British Team.
So, if you are looking for passion, drive and hard work...please contact me, as I'm ready!